Creating Spa Like Sanctuaries
Create a spa-like sanctuary and bring some hotel chic into your home with the highest standards of workmanship guaranteed for bathrooms and wetrooms in Edinburgh. Restyling or remodelling your bathroom can also add considerable value to your home. Being able to offer all trades on one project allows us to coordinate everything for you from start to finish, minimising hassle and time out of use. Why not bounce your plans and ideas off us for an expert opinion on your options? Call us on 0131 556 9816
Bathrooms
Renovate your bathroom and create a spa-like sanctuary.
You may be thinking of creating more space by knocking down walls to change the layout. Or opening up cupboard space to increase the size of your bathroom. Being an all trades bathroom specialist means we're uniquely placed to offer you the right advice.
Where could you site shower fittings, taps and electrics to make the job more cost-effective?
Are there options to maximise space e.g using space-saving sinks or wall-hung toilets. Or a very effective trick – hanging the bathroom door the opposite way to open against a wall rather than into the bathroom?
When you're ready to start we'll coordinate everything from start to finish minimising hassle and time out of use.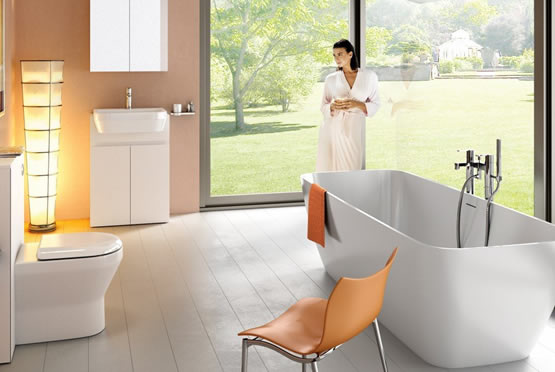 Wetrooms
Creating a modern wetroom in your home.
It's not hard to fall in love with the sleek modern lines of a contemporary wetroom. They make use of every inch of space, are easily accessible for all ages and are a breeze to clean. What's exciting is that there have been a number of new product developments in recent years, like shower trays you can recess into the floorboard space. Making it easier and more affordable than ever to get the look you want.
Again, having an all-trades wetroom specialist to oversee the job helps enormously. The entire area needs to be waterproofed to a high standard.  Having an experienced team of plumber, joiners, tilers and electricians working hand in hand makes for a smooth-running project and a high-quality finish.