Repaired, Remodelled & Restored
With 50 years of experience in the repair, remodelling and restoration of bespoke staircases for homes and commercial properties, B&M Joiners & Bespoke Services offer expert advice and detailed assistance when it comes to reviewing your staircase options. After an in-depth chat and fully managed planning process, staircase repairs can be tailored to your exact needs and specifications by our expert Edinburgh joiners. Call us on 0131 556 9816
Convert your old staircase and transform the space
Staircases for many years were all wood and often very decorative. Today, more and more people are looking for cleaner lines and a simpler aesthetic. Ask us how our expert joiners can help you transform your staircase using a combination of wood or brushed stainless steel and glass.
We also work with a wide number of bespoke staircase suppliers and we can help guide you through the fascinating maze of options open to you. Give us a call to discuss your exact requirements.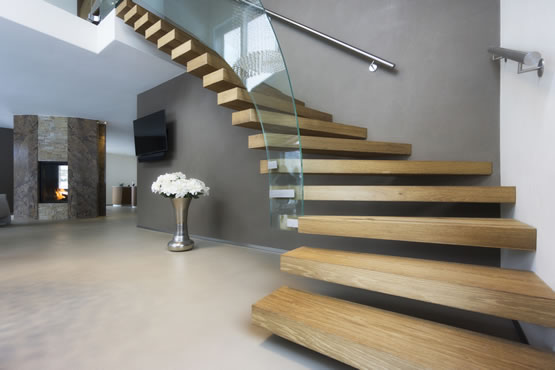 Expert advice
Open up space with toughened glass balustrades, and update the newel posts, base rails and handrails in a choice of oak or painted pine.
Changing the look and feel of your staircase or landing is easier than you might think. Even if you have an awkward turn in your stairs, or they rise up to meet a ceiling, our joiners will measure up and provide you with a quote based on the exact shape of your stairs.
You don't have to worry about building regulations either, at B&M we know the regulations inside out, to keep you well informed and safe.