50 Years Of Craftsmanship
Since 1970, B&M Joiners & Bespoke Services have been providing high-quality workmanship to the good people of Edinburgh and more recently across the Lothians. We undertake all types of residential and commercial projects from day-to-day repairs to one-off projects and long term contract work.
Through our sister company, Sash & Case Windows Direct we repair, restore and replace traditional sash & case windows. We also specialise in period properties, listed buildings and conservation area work.
We are proud to say that one thing unites us all. We are creative problem-solvers. Time-served professionals dedicated to our craft with a hard-earned reputation for the quality of our joinery and building work. To have a chat about your next project or simply want to find out more about us please call us on 0131 556 9816
Our Story
B&M Joiners & Bespoke Services started life in Canonmills in 1970 with Duncan Middlemass at the helm. The firm quickly built a base of loyal customers across Edinburgh. Taking on and training apprentices was an important part of the business, teaching and passing down skills to the next generation.
In 1997 one of those keen apprentices was Danny McGuinness, who went on to take the reins in 2007 when Duncan retired. Ask Danny and he'll tell you how proud he is of the team today.
B&M Joiners & Bespoke Services are still serving Edinburgh and the Lothians with enthusiasm and quality workmanship 50 years after first opening the doors.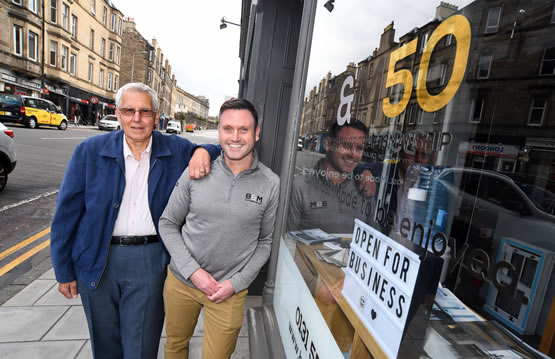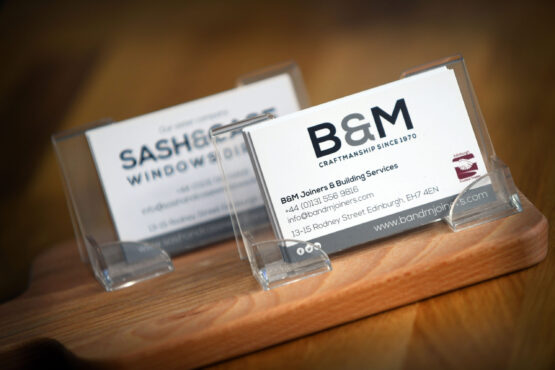 Beliefs & Methods – working in an ethical way
As joiners and builders working with raw materials such as wood, it's our duty to ensure that our sourcing policies and working practices are mindful of the environment. All our hardwood is registered with The Forestry Stewardship Council (FSC), which ensures it comes only from well-managed forests.
Our aim is to promote all aspects of environmental effectiveness, adopting and leading on key areas encompassing environmental legislation, regulations and appropriate codes of practice.
From sawmill to skip, we are working hard to reduce, reuse and recycle as much as we can. Please feel free to ask us for more details.
Banter & Manners
Everyone on our team is trained to be polite and respectful at all times, and to do their utmost to carry out work in a neat and tidy way, always ensuring your home is protected from dust and damage as best we can.
We want you to use us again and again, and we realise that being a polite and pleasant presence in your home is almost as important as the quality of our craftsmanship. Put us to the test on your next project to see why so many of our customers come back to us time and time again.
"I've used this company on several occasions. Their work is always completed to a very high standard. The coordination of different services is very smooth, and the workmen are always punctual and tidy. I thoroughly recommend them." – Jackie Giuliano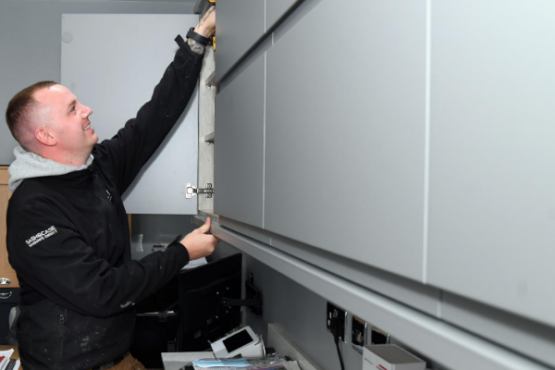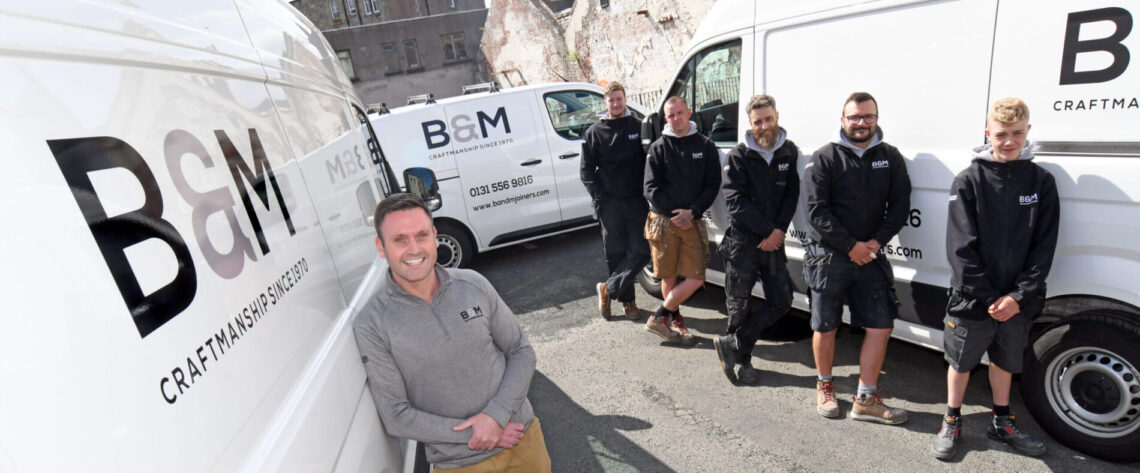 Why Choose B&M Joiners?
Hi, my name is Danny McGuinness and I'm the owner of B&M Joiners & Bespoke Services.
Renowned throughout the decades for our bespoke joinery, today we offer a one-stop solution encompassing all trades.
I'm so proud of the team, what we've achieved and the fact the vast majority of our clients have stayed with us over the years and even decades bears testimony as to why we think you should choose us to deliver your next project.
We look forward to meeting you and discussing your next joinery or building project.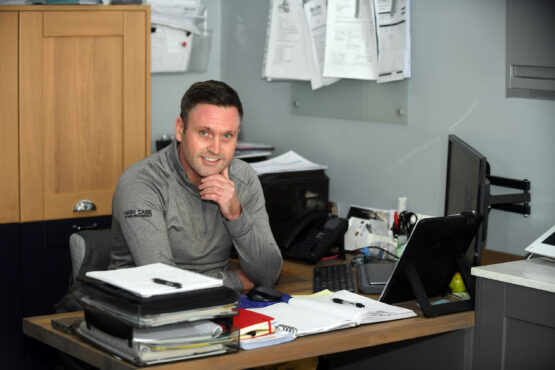 For a FREE no-obligation survey
Whether it's domestic home improvements or commercial joinery work, you can contact B&M Joiners & Bespoke Services, here in Edinburgh on 0131 556 9816.