Edinburgh Church Windows & Joinery
B&M Joiners can help your church.
B&M Joiners has been delivering quality and craftsmanship to churches in Edinburgh and the Lothians for more than 53 years. Based in Canonmills in the New Town, Edinburgh we are time served joiners delivering windows and joinery solutions that are Built To Last. Made To Be Enjoyed.
5 Key Benefits We Can Help You Achieve.
Reduce your heating bills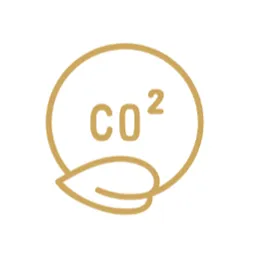 Reduce your carbon footprint and help you become more energy efficient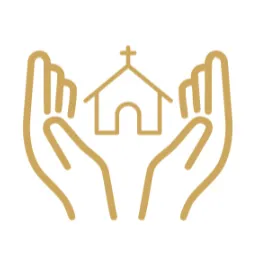 Protect your church's heritage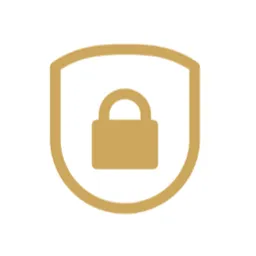 Provide additional security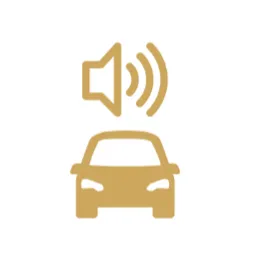 Improve the sound quality of your church
What B&M Joiners can offer your church
Install Secondary Glazing
Installing secondary glazing in your church can be a quick and easy way to help save you money and reduce your energy consumption.
Secondary glazing creates an insulating barrier that helps to keep heat inside your building, reducing heat loss by up to 65%. This can lead to significant savings on energy bills over time. Additionally, secondary glazing offers the most effective level of noise reduction in today's market, reducing noise levels by up to 80%.
Installing secondary glazing can also offer additional security to your church buildings. The high-quality timber and aluminium frames are fixed securely to resist forcing and are incredibly difficult to open from the outside.
The sleek & unobtrusive design meets planning regulations and offers greater environmental credentials. Secondary glazing systems ensure that you enjoy all the acoustic, thermal and security benefits without having to compromise your church's architectural aesthetics.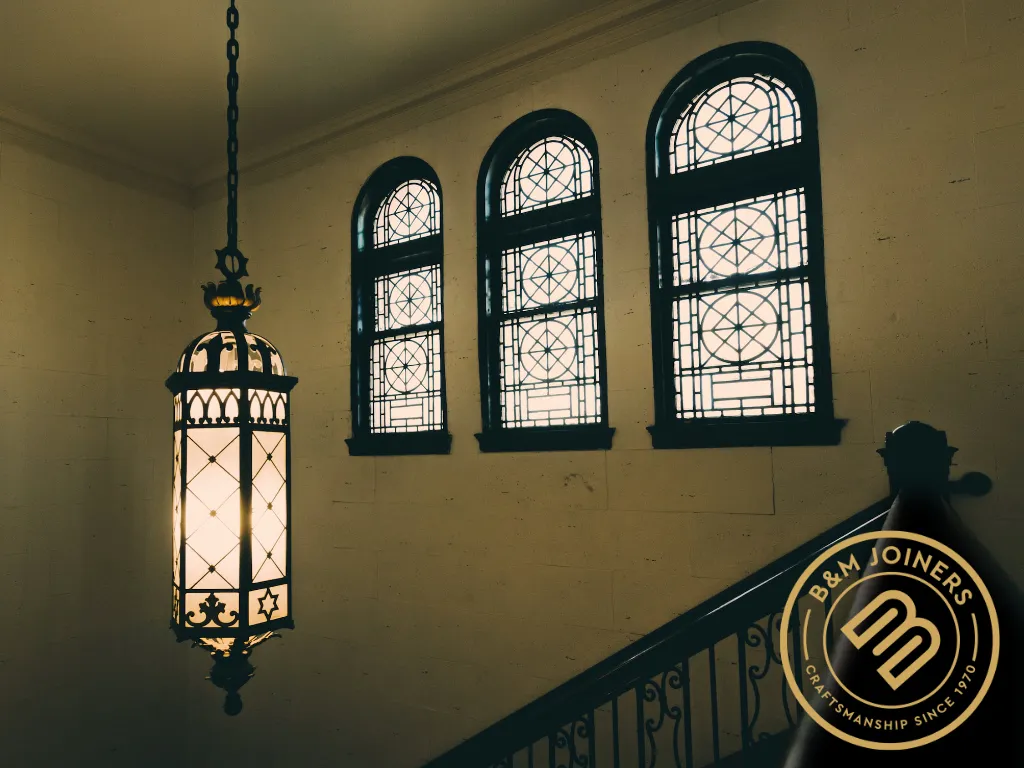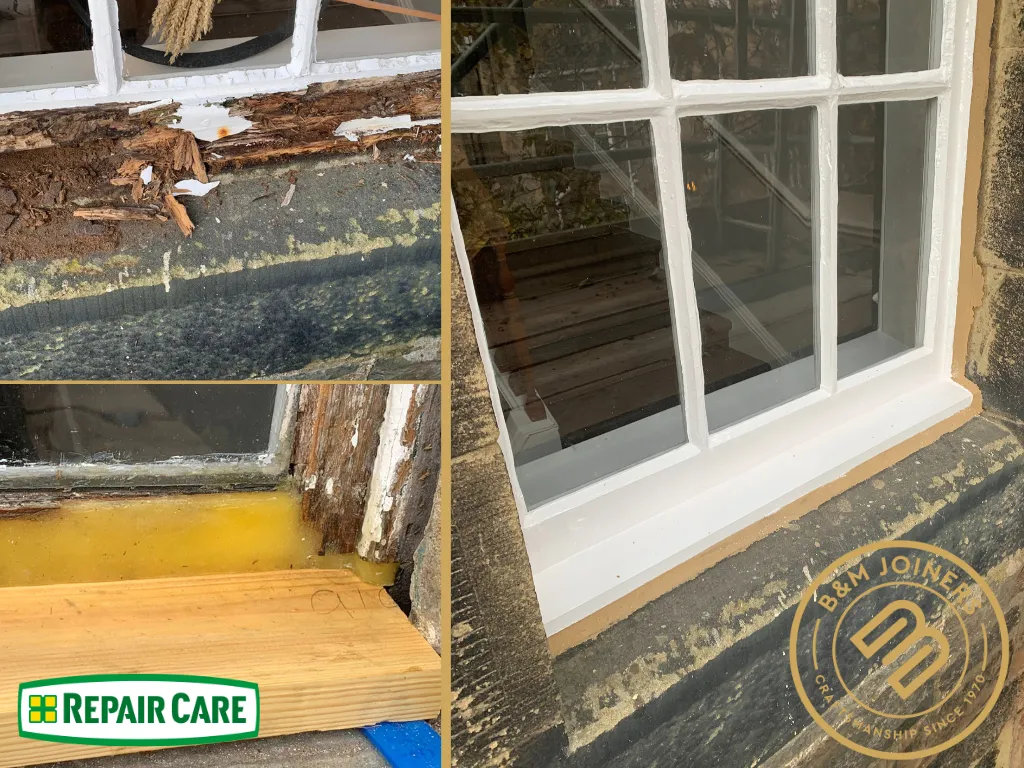 Apply Innovative Repair Care Techniques to your Original Timber Features
If you're looking to preserve your church's timber windows and architectural features, the Repair Care system can help. It provides a sustainable alternative to traditional joinery repairs by leaving as much of the original woodwork as possible and removing only the decayed and denatured timber.
Repairing with Repair Care helps reduce your church's carbon footprint by reducing CO2 emissions by as much as 90%, compared with replacing your window completely.
This repair process allows us to restore wooden elements in a way that's both effective and sustainable, extending the life of your church's wooden elements, while also preserving the original appearance.
B&M Joiners are recognised, trained Repair Care specialists.
In addition to the repair and restoration of windows, we also manufacture beautiful, handcrafted bespoke replacement timber windows to suit all styles. Sometimes the most efficient, economical and effective way to transform your church building's windows is by replacing them. We can replicate "like for like" sash & case windows specific to your church building. We offer single glazed, double glazed and heritage double glazed windows. Bespoke, made to measure and quality inspected throughout the replacement process. Our care is second to none.
Better frames, better glass, better performance. Materials and technologies have improved so much that the transformational impact of new windows can be quite remarkable. Rising energy pricing and an increasing awareness and attention to environmental concerns has only strengthened the case for replacing your sash and case windows. The best solution and the best price.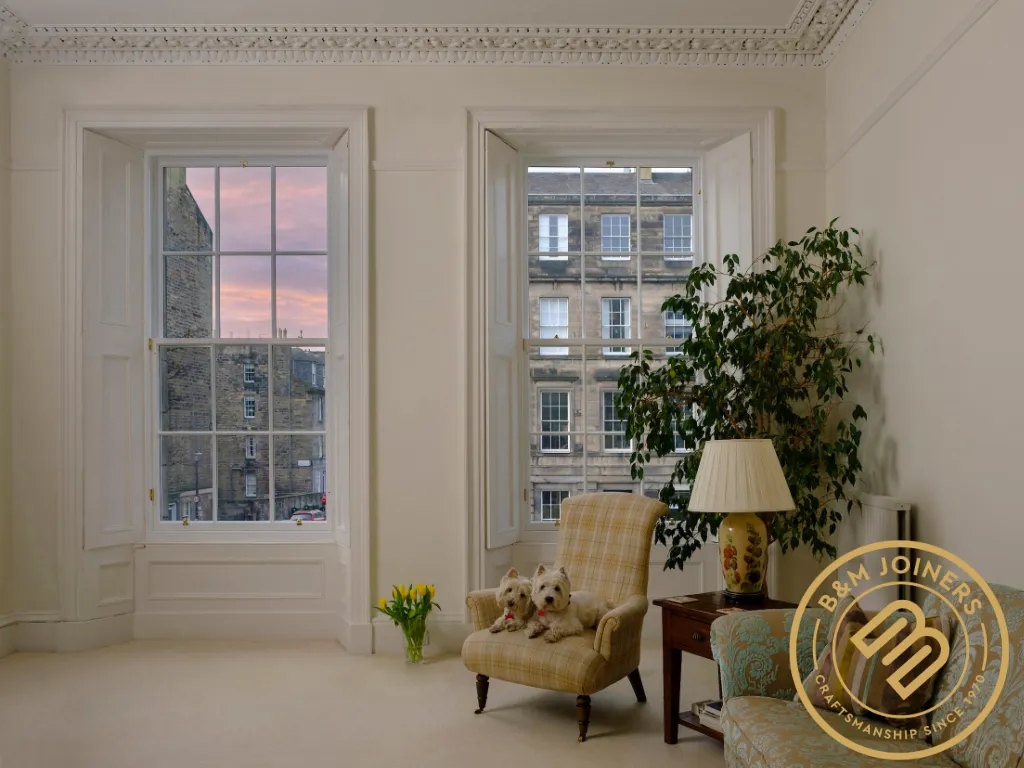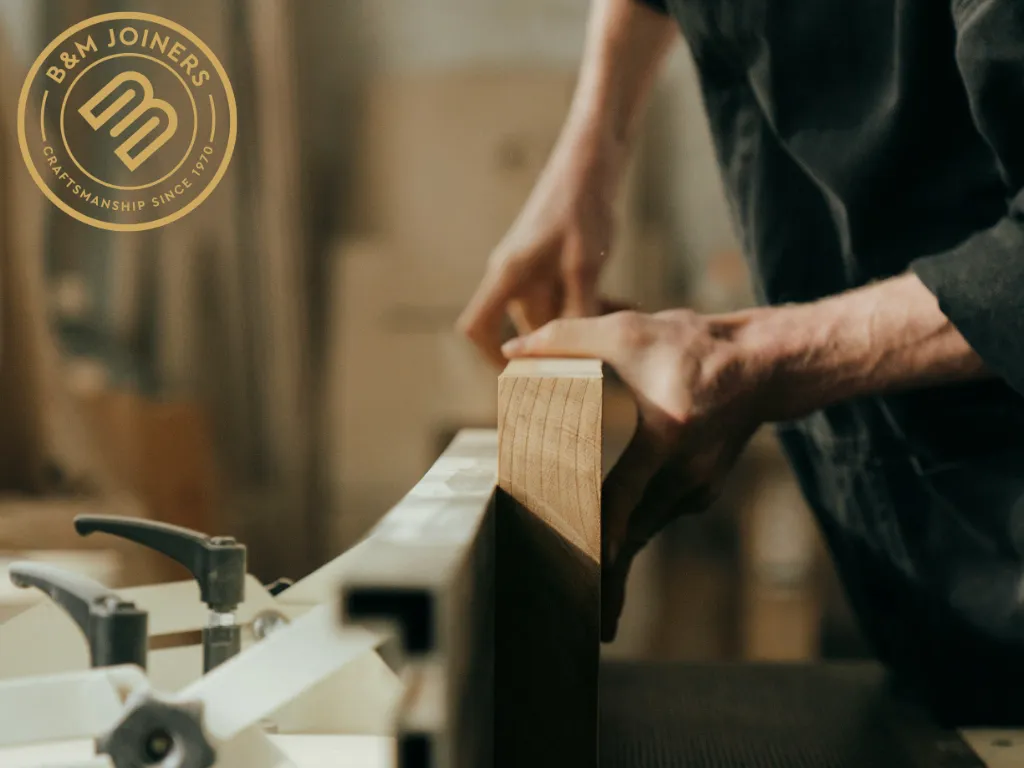 Provide Architectural Joinery & Maintenance Service
Edinburgh is characterised by its historical features and the beauty of its architecture. Given the age of certain church buildings, significant maintenance work is necessary at times to keep the property safe, watertight and in good condition.
B&M Joiners has been offering trusted help and support since 1970. We can help with your church maintenance needs by providing an extensive range of joinery services. Contact B&M Joiners to discuss your next joinery project.
Maximise your Impact on Climate Change
B&M Joiners has been recognised as an environmental thought leader by Zero Waste Scotland, achieving Platinum Accreditation. We are dedicated to minimising our carbon footprint and offering the best solutions with the best green credentials.
Whether it's Repair, Restore or Replace, for windows or bespoke joinery our solutions will help to reduce your church's carbon footprint, ensuring sustainability. Built To Last. Made To Be Enjoyed.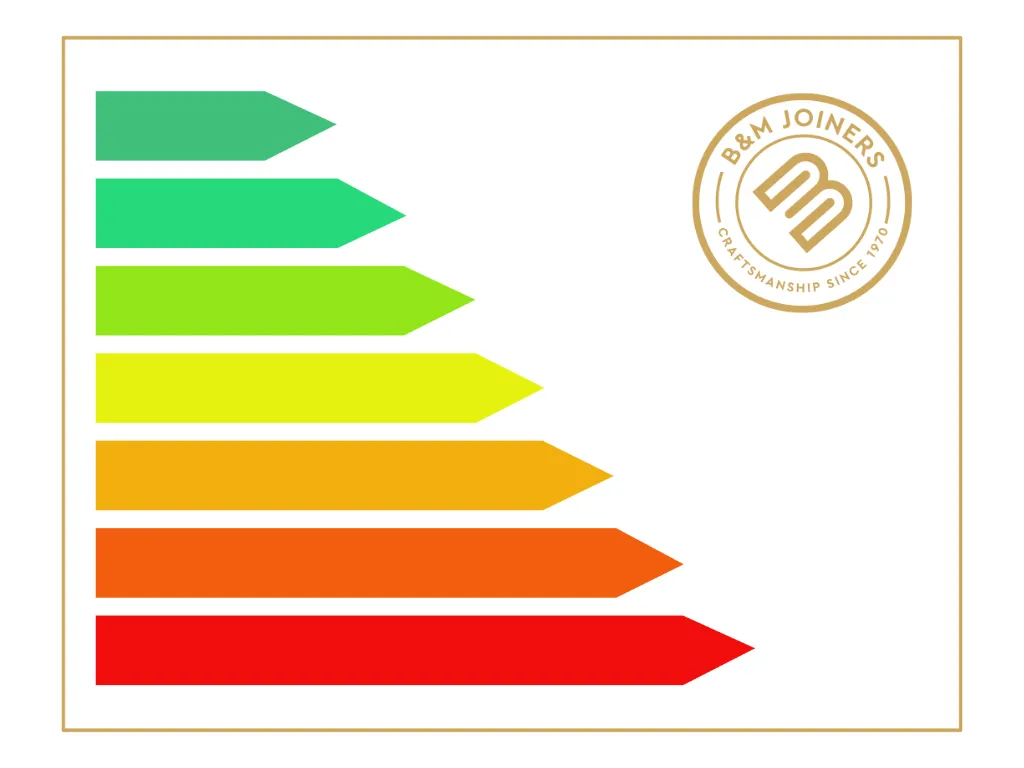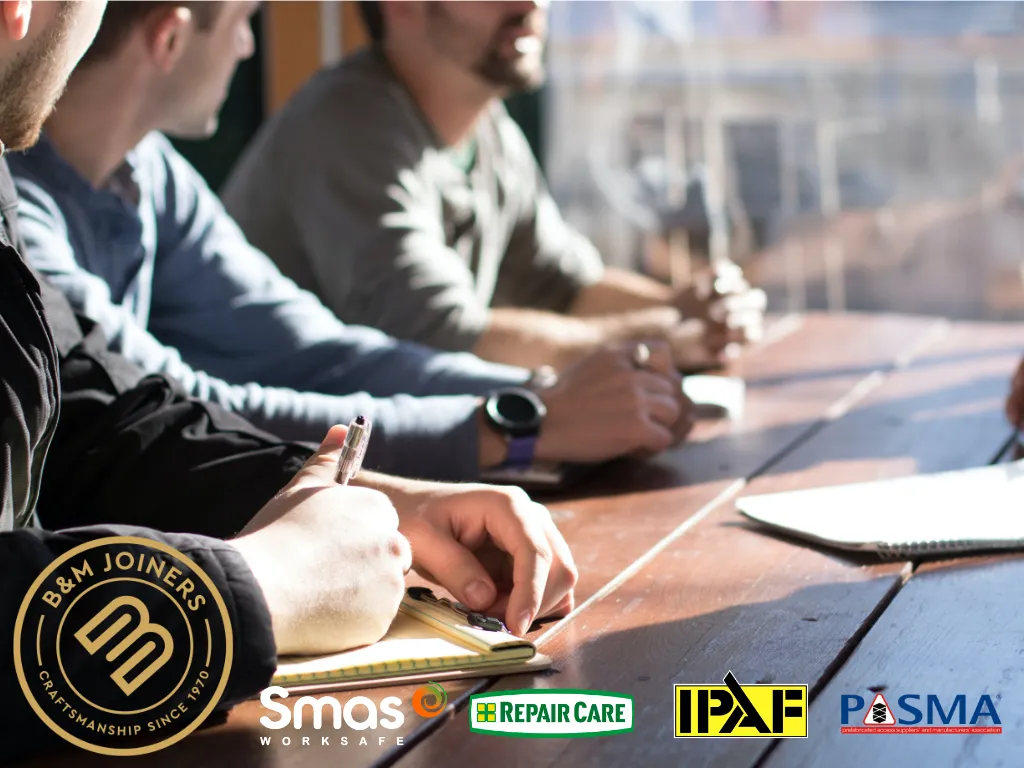 Utilise the Best Knowledge & Training
B&M Joiners believe in providing solutions that are Built To Last. Made To Be Enjoyed. Providing solutions that work for your church now, and for the future ahead. That's why we're so proud to offer both traditional craftsmanship and modern thinking. 
We continue to invest in new ideas, products, services. Investing in skills and training to protect the future of our customers. To help you protect the future of your church.
B&M Joiners has been delivering quality craftsmanship to Edinburgh and the Lothians for more than 50 years. Based in Canonmills we are time served joiners. Craftsmen. And dedicated to providing quality solutions for all our customers. A trusted, friendly and comprehensive portfolio of services. From kitchens to libraries. From property renovations to heritage and conservation work. Windows, doors and home offices. Bespoke services to delight our customers: private homeowners, individual businesses, housing associations…and churches.
Some things stay the same, but others benefit from new ideas, new skills, new approaches. A new way of thinking.
At B&M Joiners and in our sister company, Sash & Case Windows Direct, we are proud to protect our heritage buildings, legacy craftsmanship, traditional fixtures and fittings. To preserve our history, but also to prepare for and embrace our future. Nowhere is this more evident than in our approach to churches.
Whether the aim is to save money, protect architectural features, improve environmental credentials or just make people feel a little warmer and safer, we're here to help. Why not get in touch to discuss your next church windows or joinery project?