Having a dedicated Home office with desk space, bespoke storage solutions and effective lighting and power options can be incredibly useful. So if you're working full-time from home, running your side hustle or want a place to house your PC, Mac and printer set-up, give us a call. Tel 0131 556 9816 so we can discuss all your home office needs.
Purpose-built desk space and home office storage
Cleverly planned, it is possible to work wonders. From utilising the tiniest of spaces, like on a landing, through to creating bespoke bookcases or finding ways to hide cabling and screens. With bespoke joinery there's no need to settle for what you can find – you can achieve exactly what you want.
From a traditional study to casual workspaces. For office work or even an organised craft area, give us a call to discuss your ideas. We have the experience to help you plan your new home workspace.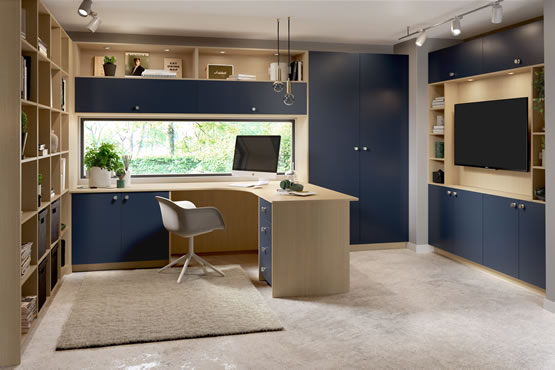 Create an office in all kinds of places
Many Edinburgh homes have valuable landing space that's under-utilised. With a made-to-measure desk you can easily create a peaceful workspace in as little as 100cm by 70cm. And with purpose-built shelving above you will have plenty of places to hide away your paperwork at the end of each day.
One important aspect in the planning of your home office is to consider the space as an extension to the design of your home. Colour schemes, lighting and window positions all matter when looking to create your perfect workspace.
Give us a call on 0131 556 9816 and start an expert conversation with us here at B&M Joiners.