Fitted Kitchens Edinburgh
B&M Joiners & Bespoke Services are one of the first choices for advice on fitted kitchens Edinburgh residents come to. Whether you're planning to replace and upgrade your fitted kitchen or you want to knock down walls to create a bigger multi-purpose fitted kitchen/dining space, you'll need expert help to create a space you'll love for years to come.
So, please scroll down this page to see examples of kitchens we have fitted and supplied. We have also provided a couple of handy guides to prices and design ideas we think you will find of use. If you have any questions at all, just give us a call to discuss all your fitting and supplier needs on 0131 556 9816
Custom-built fitted kitchens for Edinburgh homes
Perhaps you have a style in mind? A timeless paired back Shaker-style or hand-built look? We can help you achieve that custom-designed look complete with larder cupboards and hand-finished over-mantle to frame your range cooker or Aga – and for less. Over many projects we've narrowed down a selection of trusted specialist suppliers who can provide custom-built fitted kitchen cabinets to suit all budgets. Including completely bespoke fitted kitchen units, made-to measure with a range of door choices, as well as custom-paint options.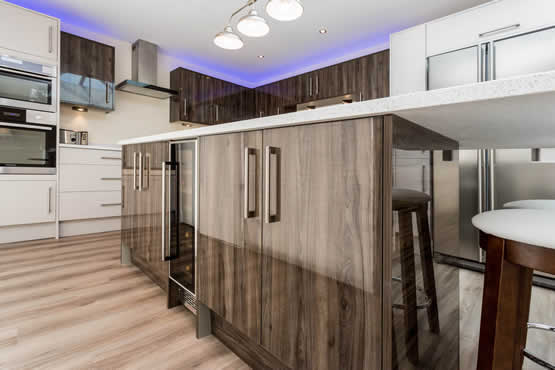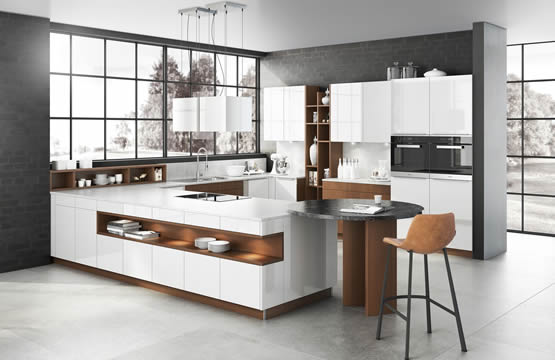 German-engineered fitted kitchens
The sleek, streamlined contemporary look can be show-stopping in both small and large spaces. As our suppliers of modern and extremely durable German-engineered cabinets can provide availability in all sorts of colourways, these look amazing with space-saving accessories to match. So rest assured the quality of the units and joinery will stand the test of time.
Talk to us about the look you want to achieve and we'll show you how you can achieve your goals within your budget.
Planning Your Fitted Kitchen
Our Kitchen Designers will work with you to capture your brief. But how will you use your new kitchen? Will it be a place to eat and entertain? A place to chop while keeping an eye on children doing their homework?
We'll help you think through every aspect, from storage needs, to mood and task lighting as well as where you'll need electrical sockets. And then share 3D designs with you so that you can visualise how the space will look. Being an all trades service we can also advise on flooring, wall coverings, tiling as well as all the latest technology such as hidden sockets, LED strip lights and bespoke kitchen shelving.
Make Your Dream Kitchen Happen
With the kitchen being the heart of the home there can be a degree of disruption as you change from your old kitchen to having your new one fitted. So, with years of experience, we know just how to minimise the mess and disruption to your schedule. We'll work with you to form a robust timing plan so you'll know exactly when everything is happening. Not only that, but we also use very effective poly sheets in every doorway and protective floor coverings to minimise any mess. We are always mindful to carefully work at a pace so you can return to live in your new kitchen as soon as possible.
For a FREE no-obligation survey
Take a look at our gallery of projects, you'll find we are renowned for the quality of our fitted kitchens Edinburgh. Breathe life into your plans, talk to us today about a free no-obligation survey and quote on 0131 556 9816 or info@bandmjoiners.com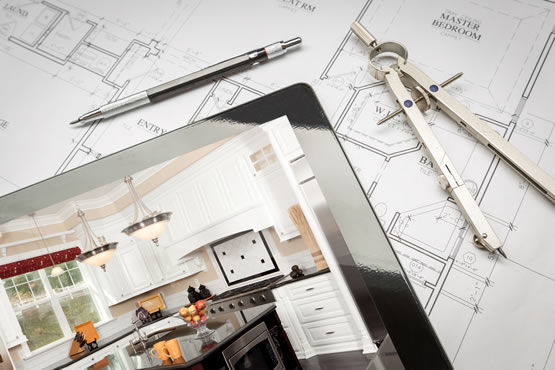 Kitchen Quote Examples
2020 has marked our 50th year serving customers from our base in Canonmills, Edinburgh. As time-served joiners and all trades building specialists, we've tackled everything from conservation properties in the New Town to building extensions in Bonaly and bespoke fitted kitchens in Cramond. We're punctual, hardworking and dedicated to our craft. It's our recipe for success and has been for five decades.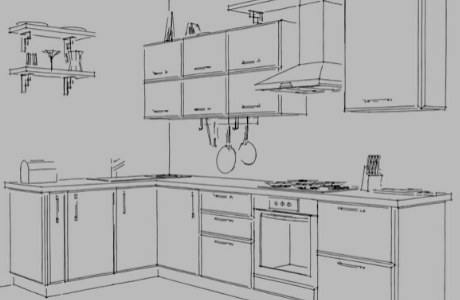 Budget kitchen example: From £ 10,000 upwards
A standard manufactured kitchen usually with a limited range of matt laminate finishes
Laminate worktops – upgrades to stone worktops possible
Integrated appliances – single oven, 70/30 fridge freezer, dishwasher, ceramic hob & built-in unit extractor fan. Upgrades available.
Sink & Taps including cutlery trays for drawer packs
Splashback materials are usually extra.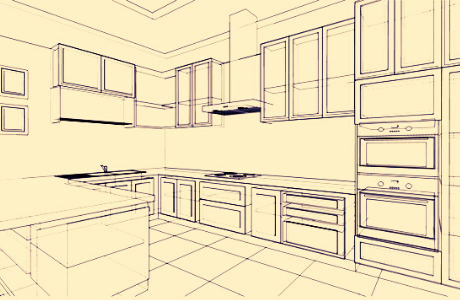 Premium kitchen example: From £ 15,000 upwards
German manufactured, usually handless kitchens with a wider range of matt laminate & wood laminate finishes
Laminate worktops – upgrade to premium stone worktops an option.
Integrated premium appliances – 450 combination oven & microwave, 450 oven with full steam, 70/30 fridge freezer, dishwasher & extracting induction hob – upgrades possible.
Blanco Sink & Taps
Includes cutlery tray for drawer pack and splashback materials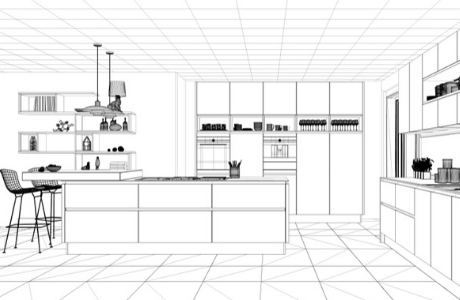 Luxury kitchen example: From £ 20,000 upwards
German manufactured & styled kitchens with a range of lacquered matt finishes on entry
Handled doors – choice of handles and Stone worktops. Laminate worktops with stainless steel edging – upgrades available
Integrated premium appliances – larder fridge, larder freezer, 2x single ovens, dishwasher & extracting induction hob – individual appliances can be substituted
Blanco Sink & Taps – includes cutlery tray for drawer pack.
All estimated prices shown are inclusive of VAT.
Top 10 Fitted Kitchen Pitfalls
There's a lot to consider to avoid the pitfalls when changing around what is probably the most used room in your house. Here are some the top 10 fitted kitchen planning pitfalls we can help you avoid:
1) Measuring: 
There is little room for error with worktops, particularly solid-state worktops and kitchen cabinets. It's important to take account of which way doors and tumble dryers need to open, and what you're going to put in the cabinets next to your heat-generating oven. Our kitchen designer will work with you to bring you designs that work for the style of cook you are, and the way you plan to use your drawers and cupboards. As well as give you ideas you may never even have considered!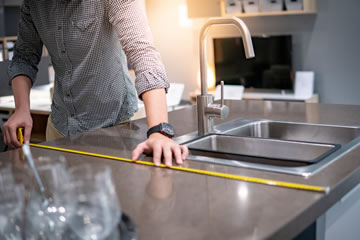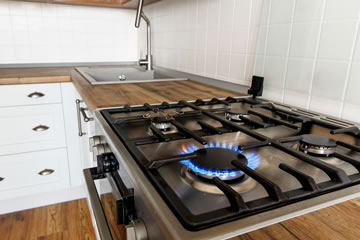 2) The utility triangle:
Most people move in a triangle between their hob, sink and the fridge. We'll help you plan your fitted kitchen to work ergonomically, so you don't find yourself having to move too far to drain the pasta or reach the fridge.
3) Placement of sockets:
Being an all trades service, we can take care of your entire kitchen makeover, and that starts with ensuring the plug sockets are in the right place for the appliances you use. Including hidden sockets that get rid of those unsightly charging cables.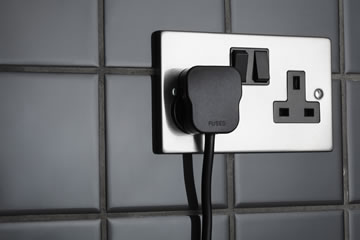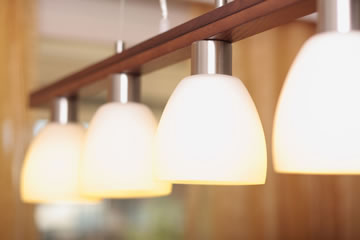 4) Task and mood lighting:
Most people go for uniform rows of LED spotlights in the ceiling but you can get a whole lot more creative than that. How about a pendant light over the breakfast bar that dims when it's time for cocktails? Or task lighting under your cabinets where you'll do the food prep? Or a seating area on a separate dimmer switch allowing you to create different lighting zones within a larger multi-functional living space?
5) Sound:
The beauty of working with bespoke joiners in creating your ideal fitted kitchen is that we can cleverly incorporate technology into your design. How about a dedicated space to hold your Alexa, or a soundbar perfectly placed for sound but out of sight?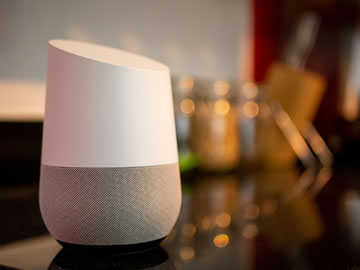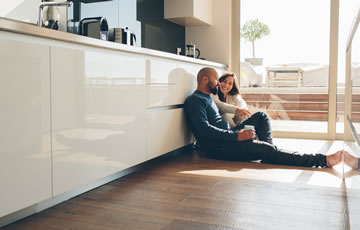 6) Flooring choices:
Here at B&M Joiners & Bespoke Services, we lay a range of kitchen flooring from solid wood, to Amtico and ceramic tiles inset or throughout. And if you need help with design, to coordinate with your wall tiling and kitchen cabinet styling that's fine too, just ask.
7) Boilers and pipes:
Lots of Edinburgh homes have to work around a boiler in the kitchen. Don't worry. Our joiners can cleverly work around whatever awkward pipes or features you have, even building a matching cabinet to disguise your boiler if this is something you'd like.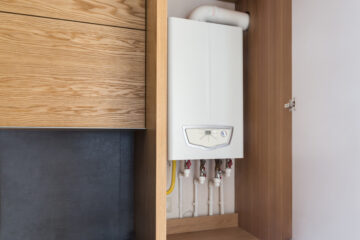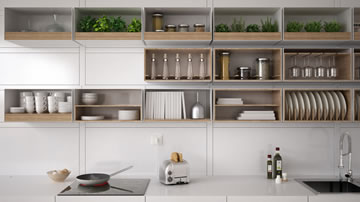 8) Shelving open or cabinets?
You may want us to build bespoke shelving or a mantle over your Aga? We'll work with you to bring the whole fitted kitchen look together, and put your shelving at the exact height that works for you.
9) Access to the garden:
Perhaps you'd like to turn a window into a patio door giving you access outside? Being an all-trades service, this is something we can help and advise you on.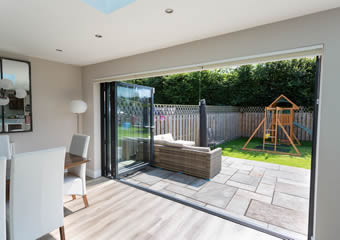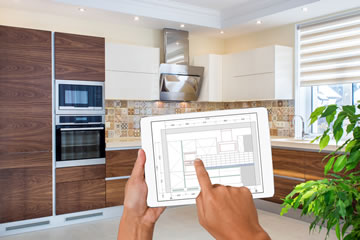 10) Project Management:
There's a lot to manage with a fitted kitchen, particularly if online orders arrive damaged with the potential to set the job back. At B&M Joiners we can take care of everything for you, so all you have to worry about is watching your beautiful new bespoke kitchen take shape.